Luxury Living
Features
Your investment funds the development of a brand new, super eco-friendly, drought-proof, four bedroom home with features such as:
massive rain-water storage, eliminating water bills
solar heating and hot water for low cost warmth and hot water
solar and wind power to grid, reducing mains power bills
natural cooling, again cutting power bills
reticulated irrigation
grey water and bio-degradable sewerage.


Benefits
When you invest in Farthings Lane, you aquire:

exclusivity—as one of only six investors you know your property is in safe, environmentally committed hands
peace—enjoy the tranquillity and amenity of the bush with nature-friendly luxuries for added peace of mind
value—not only are you giving back to the earth, you do so at a surprisingly low cost for quality facilities
sharing—as a partner in the enterprise, you'll enjoy sharing savings and input with your co-investors
convenience—using local skills, designs and materials cuts down on delays and accelerates your enjoyment.
The choice of plans for the home comes from local builders. Their designs and construction methods are fully approved for sustainability and functionality by local planning authorities.
Potential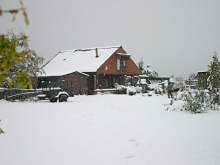 The location of the property, its altitude, and mix of level land and slopes give you great flexibility. Start with easy access to Australia's premier snow resorts (Perisher, Thredbo, Blue Cow, Mt Selwyn, Jindabyne), giving you a superb launch pad for winter sports.
You can also choose any or all of:
bush-walking
horse-riding
grass skiing
winter tobogganing and snow play
fishing
Facilities that could be developed include:
stables and equestrian amenities
kennels
sports courts and fields (tennis, basketball, football, cricket).